Rock & Republic ladies IRR denim jeans assortment 24pcs.
Rock & Republic ladies "IRR" irregular denim jeans assortment 24pcs.

Rock & Republic has fast become the "in" jeans line for Hollywood. Fashion inspired by Rock & Roll, R&R puts an emphasis on sexy. Their modern silhouettes and sleek fit have been worn on the buns of celebs like Paris Hilton, Britney Spears, and Sarah Jessica Parker, and Cameron Diaz. Of course you don't need us to tell you, you've seen them featured in almost every fashion magazine.
This stock is classed as IRR (irregular) as it is a closeout and comes without any hang tags to prevent retail store returns.
IRR to include: Mill flaws such as pulls in the fabric, skipped needle on bottom hem, pocket reinforcement, shade differences, sewn fabric slub/hole, sent to laundry, stitched hem, fabric pulls, missed threads, repaired belt loops, repaired and or missing buttons, small stains, repaired and or missing rivets. 

Case pack: 24pcs.
Sizes: 24-32, Run of sizes per each pack.
Style: Assortments to include but no limited to styles as shown.
MSRP: $234.00each.

Sample of styles to be included but not limited to.  Each case is assorted based on our ownership of goods. Stock is final sale. This order is sold in confidence. There are no refunds, exchanges of any kind. All goods are sold as described & all sales are final.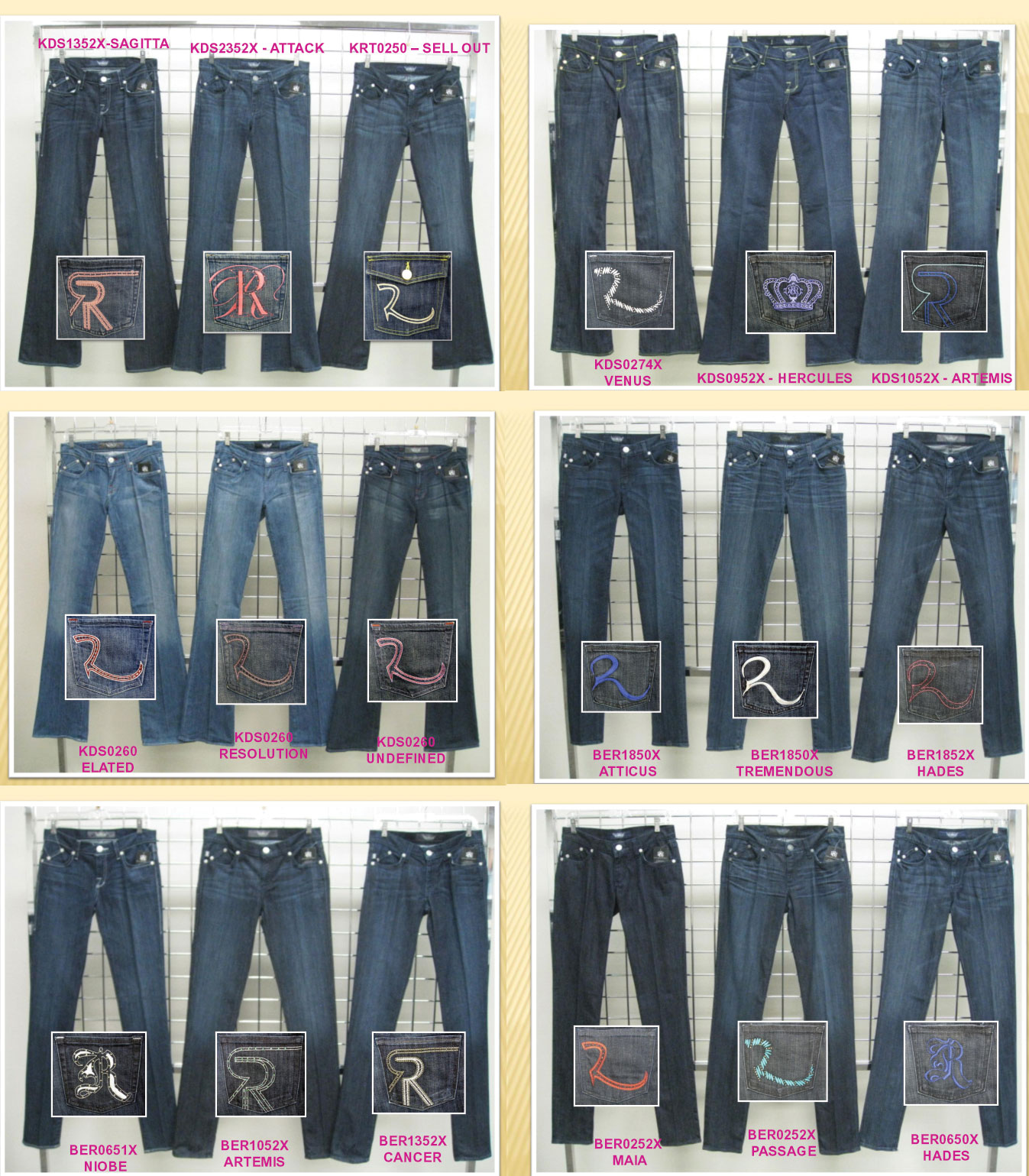 More Information

| | |
| --- | --- |
| Manufacturer | Rock & Republic |